WADO IN INDIA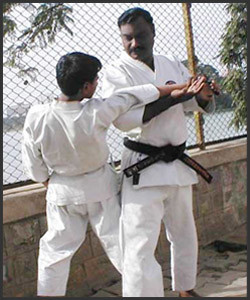 In the days of violence and crime everywhere, the want of learning a martial art for self defence is forming in the minds of the young and the old alike. Now here is a good news to all you martial art enthusiasts. A new system of karate called the "Wado" System has been introduced in the country by Renshi Dr. V.K. Rajasekaran. The new system "Wado" which in Japanese means "The Way of Peace" is characterized by powerful striking and kicking techniques, elegant kata (forms) tactful fighting and self defense skills. This system is considered to be one of the best karate systems in the world.
After Master Ohtsuka"s death in January 1982 there arose serious technical and administrative problems in the Wado federation. These problems were settled by Master Ohtsuka"s most prized student, Master Tatsuo Suzuki and 8th Dan Black Belt. Since the problems led to the breaking of the Wado federation into "3" factions, Master Suzuki having been trained directly under Master Ohtsuka decided to assume the lead of one of the factions which is the Wado International Karate Federation, one of the largest karate organizations in the world, boasting membership over 51 countries in its fold. Master Suzuki is presently the only man to be trained directly under the founder and claims to impart teachings the same way his master did.

Eleni Labiri – Suzuki
It is with the deepest sadness and regret that we must inform you of the passing of Suzuki Sensei in the early hours of Tuesday 12th July 2011.
Let us remember his life and not his passing.
Eleni Labiri – Suzuki